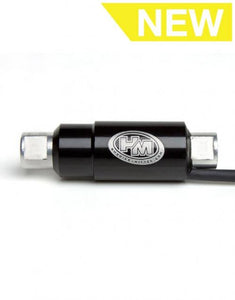 HM Quickshifter Blipper Shifter Mv Agusta Brutale Dragster Rivale Stradale (Order in Only).
The quickshifter/blipper sensor supplied as standard on the latest model motorcycles are a simple switch with a spring.
This part has already shown to be unreliable and lacks feel for positive up shifts and downshifts.
Replace OEM quickshifter for newer (Euro4) Brutale, Brutale RR, Dragster 800, Dragster 800RR, F3 675, F3 800, Rivale 800, Stradale 800 with 3 wires in quickshifter connector.

Using advanced strain gauge technology, our sensor fixes the issues experienced with the standard unit. With no moving parts (unlike the standard switch) there is no mechanism to fail. Fully adjustable for sensitivity - plug and play fitment.

Fitment is suitable for road or race (standard or reverse direction) and fits both standard and aftermarket rearsets.

NOTE: Only available for models with up and down shifting as standard.

Now you can just simply plug into your existing Quickshifter port.
If ordering for a HM Superlite please deduct 60mm of the length of the rod, if ordering for the HM Plus/HM Plus SS/HM GP please deduct 55mm off your original length before you order.